About the project:

ME WE: Projects on Peace, a digital resource, highlights a few of the many incredible objects, audio, and stories of Howard and Sue Bailey Thurman, housed at the Howard Gotlieb Archival Research Center at Boston University. Howard Thurman and Sue Bailey Thurman were remarkable twentieth century religious, social, and civic leaders whose pioneering work remains relevant today. The Thurmans created cultures of belonging, nurturing diverse communities while also speaking to one's inner wholeness. Spring 2021, Exhibition Design students at Boston University, School of Visual Arts, researched the Thurman collection and responded with interpretive designs. Me We includes an exhibition of this work and provides resources for supporting peacemaking in Boston and beyond.
Details:
UX/UI, Interactive, Visual Identity , social media, 2021.
Candles in Common
investigations & imaginings,
making space for active peace
and nonviolence.

We are connected and we are unique. This exhibition, composed of a series of interpretive design interventions or expressions, expresses a hybridity of narrative and histories that are layered, complex, and interconnected; all represent a mutual exchange of knowledge and care. These design expressions reflect the importance of nurturing, hospitality, and interactions that are rooted in love

Identity Inspiration:


The main inspiration for the visual identity comes from a speech Muhammed Ali gave to a group of Harvard students in 1975. During his speech someone asked him for a poem, to which he replied "ME,WE." It is thought to be the shortest poem in the English language, and speaks to knowing oneself while being connected to others.

In 2007, artist Glenn Ligon created a site-specific installation of these same words for the Studio Museum in Harlem.

Colors:


Brown Symbolizes earth. Therefore, its ties to earth makes it nurturing and comforting to many people. It represents reliability and approachability. The colors used for the visual identity mainly symbolize strength, protection, honesty, wisdom, and support which are some of the foundations this exhibition was built upon.




Project Leader and web content:

Jessie Rubenstein, Lecturer in Graphic Design, Boston University


My Role:

Teaching Assistant, web designer.
Funded by:

Inclusion Catalyst Grants
School of Visual Arts, College of Fine Arts, Boston University.
Tools:
Adobe Illustrator, Figma, Adobe After Effects, Google Drive, Microsoft Office (Excel, Word), Zoom, Cargo, Instagram.
The problem:
The 2020-2021 academic year was a time filled with uncertainty and darkness. In the midst of that darkness, we lit candles. Candles in Common is a group exhibition composed of a series of collaborative projects that explore active peacemaking through a series of unique lenses. Because the exhibition had no physical space to live on, we had to think of other ways of showing and sharing the great work and research and that was done by the class of spring 2021 Exhibition design.
Solution:

I pitched in the idea of conceptualizing and designing an entire virtual exhibition experience to professor Jessie Rubenstein, and we both agreed to work collaboratively to bring this virtual exhibition vision to life. The website allows the audience to browse through the work in a linear experience similar to that of an actual physical exhibition, with a heavy focus on story-telling— an important element that most of these pieces were inspired by.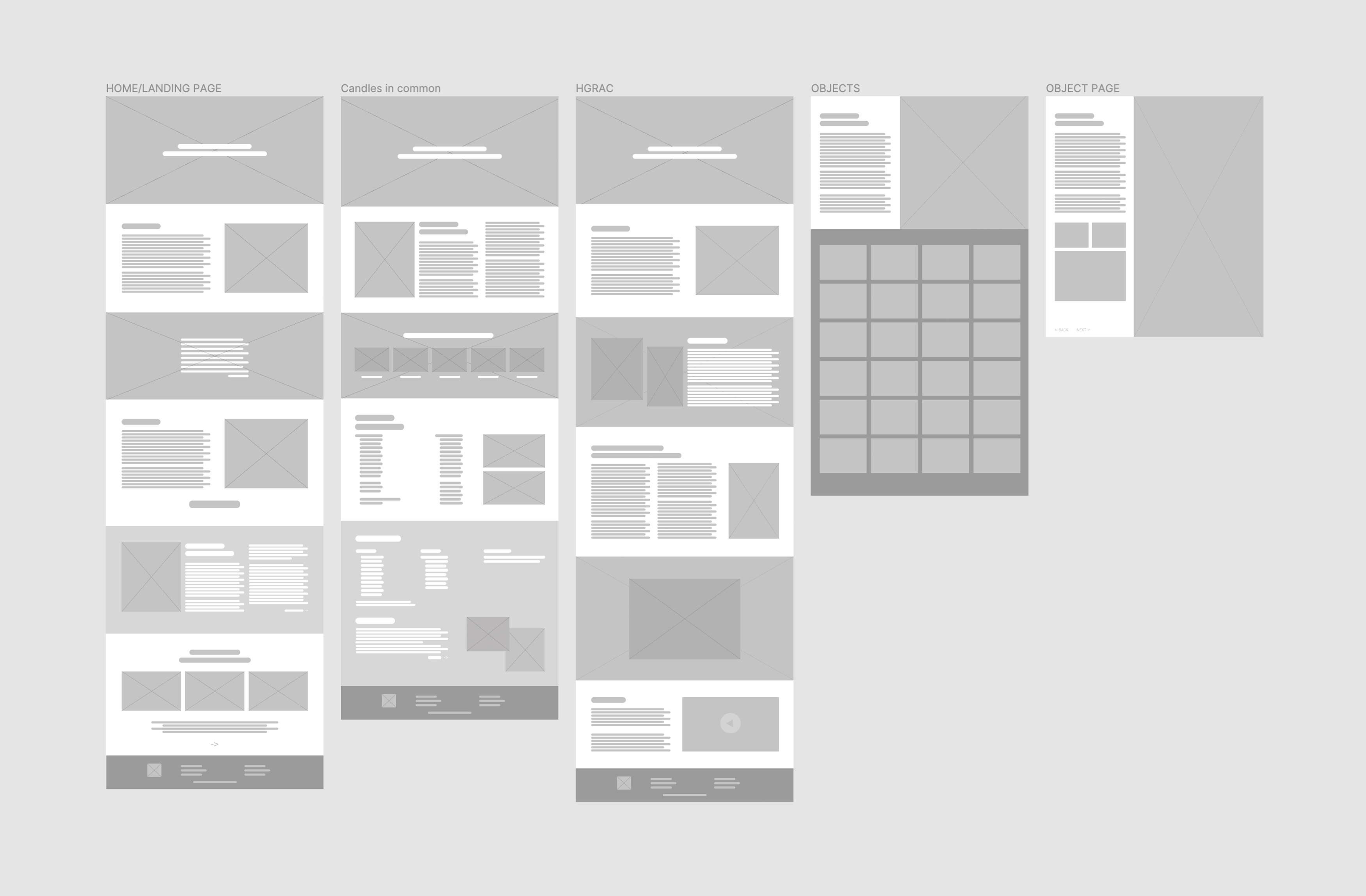 Ideation:
Focuses on creating a simple and comfortable virtual exhibition experience, with a heavy emphasis on the visuals/projects and the element of story-telling.
Design Principles:
Creating and setting the visual identity for the exhibition's brand, and using the same principles to lay the groundwork for the website.

Communicating the stories behind each piece by maintaining visual balance between text and image.

Building a linear experience that mimics a physical exhibition.

Designing an empathetic and user-friendly desktop and mobile interfaces with clear navigation.
Adding simple elements of interaction, such as background interactions to elevate the user experience.
Features:

Simplicity

Good image resolutions

Image Gallery

Image slider

Background interaction

Flexibility

Available for both mobile and desktop

Color scheme on brand

Webpage Inspiration:
The Thurman's Pilgrimage.

Weaving (Inspired by the cloth Ghandi Gifted to the Thurman's).

Layers and narratives.
Guests:
Nicholaus Bates
Yng-Ru Chen
Autumn Cole
Jillian Domenici
Kate Gilbert
Paul Kotakis
Cara Liasson
Linda Pagani
Shari Tumandao



Project Support:
Dana Clancy
Brandon Cohen
Toni Pepe Dan
Megan Elias
Claudia Friedel
Ryan Hendrickson
Sean Noel
Arleigh Prelow
Gus Wheeler
Logen Zimmerman
Felice Amato
Ariana Schrader-Rank